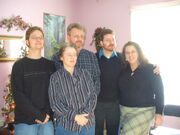 Welcome to the Elliott Family Portraits Wiki
This wiki is to serve as a familial record for the family of Geoffrey B. Elliott, one accessible to and editable by members of that family. With luck, it will stick around for a while and help those who follow after to know those who have gone before.
About the Family
There are a lot of Elliotts in the world, and many of them know which are related to which, and how closely. A central location for records of the doings and lives of those who are related fairly closely to Geoffrey Bryce Elliott seems like a good idea to develop and promulgate.
For purposes of this wiki, then, the "family" will be defined as those who:
Share ancestry with Geoffrey Bryce Elliott, going back from him no further than his grandparents (Russell Jay and Audrey V. (Nelson) Elliott, James H. and Patricia Jean (Hardy) Bryant)
Marry one of those who share ancestry with Geoffrey Bryce Elliott; and the parents, grandparents, siblings, and children of the same
Are of particular personal significance to Geoffrey Bryce Elliott and those of his immediate (spouse and children) family
Other inclusions can be made based on agreement of those already included as part of the family, as defined above.
Formatting Basics and Notes
As a rule, this wiki seeks to conform to the standards put forth by the Modern Language Association of America. Please link to any online materials, and provide citation for any non-digital materials referenced.
Please list all dates outside of those appearing in quoted materials in day/month/year format, as 21 December 2011.
Create pages for family members by last name, first name, and other names, as "Elliott, Geoffrey Bryce," "Elliott, Sonya Priscilla (Jaramillo)," or "Hardy, Edwin Dennis 'Denny.'"
Also, this is meant as a familial record. The grandkids will read this. Exercise appropriate self-filtering, please.
Latest activity
Community content is available under
CC-BY-SA
unless otherwise noted.